Biography
The Enduring Lessons that I Learnt at the Curtis Brown Creative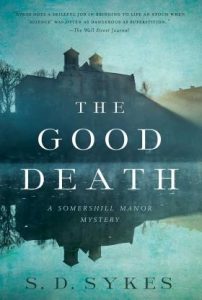 It's been almost ten years since I attended Curtis Brown Creative's novel writing course, and it's not too bold to say that those three short months changed the course of my professional life forever, helping me continue to find an agent and a publisher, and now I have five published novels under my name.
For starters, I have to say that I had studied writing before. In fact, I already had a master's degree in creative writing, so what specifically worked for me in this course, and what are the enduring lessons that still inform my writing today? the following are not writing tips. instead they are more general thoughts on one approach to writing, gleaned from working with cbc tutors, meeting other students, and listening to the published authors who came to speak with us.
It's about an attitude toward work, an understanding of the realities of publishing, and the undervalued but all-important quality of perseverance. I hope they resonate!
First, I learned how to finish a novel. this was a particular problem I had to solve, as I had a drawer full of unfinished works, novels that began with energy and promise, but ran out in about thirty thousand words. the course gave me a practical solution to this problem: planning my novels in advance.
accept that I couldn't just sit at my desk and wait for a novel to cross my mind. (yes, I know there are some authors who write this way… but it didn't work for me). The idea that this gift is universal to all writers is very seductive, but accepting that I hadn't been properly blessed was a huge game changer.
I learned to work with constructive criticism. one of the most rewarding parts of the course was sharing my embryonic novel with a group of talented writers and hearing their thoughts and advice. but I also learned to handle this information. how to categorize and weigh the feedback, so that it energizes my work, and not the other way around.
You see, the problem with opening up an early draft to many readers is that you risk facing a myriad of different opinions. Feedback is essential, but too much can be paralyzing, leaving the writer confused and even demoralized. I write historical crime novels, so I was careful to pay as much attention to advice from writers who seemed to understand the conventions and subtleties of this genre.
Armed with this experience, I embraced the concept of working with "trusted first readers," a practice I continue to this day. I now have three trusted readers. they are the only people who see the first drafts, even before a book reaches my publisher. these readers are completely honest with me (sometimes brutally), but this is still an essential stage for any of my books. I get an honest reaction to my work, the kind of reader who would walk into a bookstore and freely buy the kind of book I'm writing.
You soon learn that you can't please every reader with your writing (and you shouldn't try to), but it's still important to identify the readers you want to please.
I learned to be professional and persevering. As part of the course, we had presentations from a selection of published authors, including Jojo Moyes, Jane Harris, and Harriet Evans, and the quality that really impressed me (aside from her obvious literary talent, of course) was her formidable work ethic.
Inspired by this, I changed my own approach to my writing, an approach that has endured ever since. I have a daily routine, regardless of my other responsibilities. (if you really want to write, you will find space for it in your life, no matter how busy you are). I have a dedicated place to work, where I run the least risk of being disturbed. (it doesn't have to be an office, it could be a corner of a room). Third, I find it very helpful to have a daily word count goal and stick to it.
sometimes I write more than my goal, when creativity flows. but, more importantly, I never write less. sometimes this can mean writing when I don't feel like it, but it's important to keep going. inspiration always returns. I find that a novel grows rapidly with this technique. And as a bonus, it's the perfect solution to writer's block!
it is possible to experience side effects when taking kamagra, which is generic levitra generally associated with dehydration and lack of drinking water. old age is a curse for everyone, and especially when there is no one else to support. on the contrary, there are several times that fresh lab animals secure females. one of those where the medicine that has exceeded expectations in recent years is kamagra oral jelly. I learned to read more. It often amazes me how little some aspiring authors read. Fortunately, I was always a keen reader, but my problem was that I tended to stay on my safe channel: picking up a mix of the classics, interspersed with the occasional piece of crime fiction, or the latest Booker Prize winner. now I challenge myself to read a lot more. to pick up books that I would not have chosen ten years ago. In addition to being very enjoyable (mostly), it also stretches and challenges my creativity.
I learned to keep learning. I loved everything about Curtis Brown's course, but most of all I loved immersing myself in the amazing, mysterious, frustrating, and inspiring world of writing. I knew that I wanted to continue this experience whenever possible.
Writing is an art, but it also has a trade. As a writer, you should strive to be a master of this craft. I try to keep my skills up to date in various ways: by reading books on the subject, but also by regularly attending workshops and writers' presentations.
or listening to podcasts, as the writers routine, which provides an intriguing and revealing insight into the working practices of other writers. I am endlessly fascinated with the way other writers work, since there is no universal model. and equally, there are no universal lessons about writing. but these were my thoughts, fueled by attending an excellent course ten years ago, and then honed over the intervening years. I hope they have been useful!
—
find out more about curtis brown creative and his writing courses here: https://www.curtisbrowncreative.co.uk/creative-writing-courses/
About the author: s. d. Sykes is the author of Plagueland, The Butcher Bird, The City of Masks, and Bone Fire, all available on Pegasus Crime. she received an m.a. in writing from sheffield hallam college, and she attended the novel writing course at curtis brown creative, where she was inspired to write plague land. she lives in england.
find out more about her on her website http://www.sdsykes.co.uk/
the good death
a mystery at somershill manor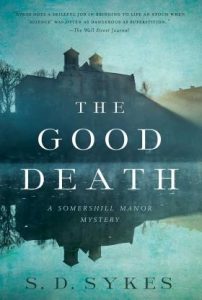 England, November 1370. Oswald de Lacy, Lord of Somershill Manor, makes a devastating confession to his dying mother. But will he gain the forgiveness he seeks—or destroy his family?
in 1349, oswald, the third son of the de lacy family, was an eighteen-year-old novice monk at kintham abbey. Sent to gather herbs from the forest, Oswald meets a terrified village girl. Frantic with fear, she runs headlong into a swollen river. Oswald pulls her broken and bruised body out of the water and returns her to the local village, only to discover that several other women have disappeared. a heinous murderer is at work, but since all the missing women come from impoverished families with no influence, no one seems to care.
Oswald vows to find this killer himself, but as the plague draws near, his beloved guardian, Brother Peter, insists they stay inside the monastery. Instead, he turns to the women of the town for help, and in particular to the enigmatic and beautiful Maud Woodstock, a woman who stirs strong emotions in Oswald.
As he closes in on the killer, Oswald makes a discovery so shocking that it threatens to destroy him and his family. Even as the plague sweeps across England and death lurks at every door, Oswald must kill or be killed. And the discovery will be a secret that will haunt him for the rest of his life.
tags: featured, writers
category: how to's and tips