New
How to Make a DIY Movie Projector For Your Phone
love this post? share it! 🙂
Ever since I stumbled across a tutorial for a DIY movie projector using a shoebox, I've been fascinated by the idea. but I didn't like how ugly they looked. And would you really want to invite people over and bring out a taped-up shoebox? lol
But it wasn't until I completed my patio makeover that the idea began to haunt me again because outdoor movie night finally seemed like a possibility.
every month wendi has a power tool challenge and every month i say i'm going to participate but then i completely fall apart. this month, however, I knew I wanted to do this. and of course we were restricted to using only one plate.
good.
I can do this.
and I just did.
I started with this 2′ x 4′ piece of birch plywood that I happen to have in my garage from another project. It only cost me about $12 from home depot because it was part of a larger 4′ x 8′ sheet of birch plywood that was cut into 4 pieces when I bought it last month.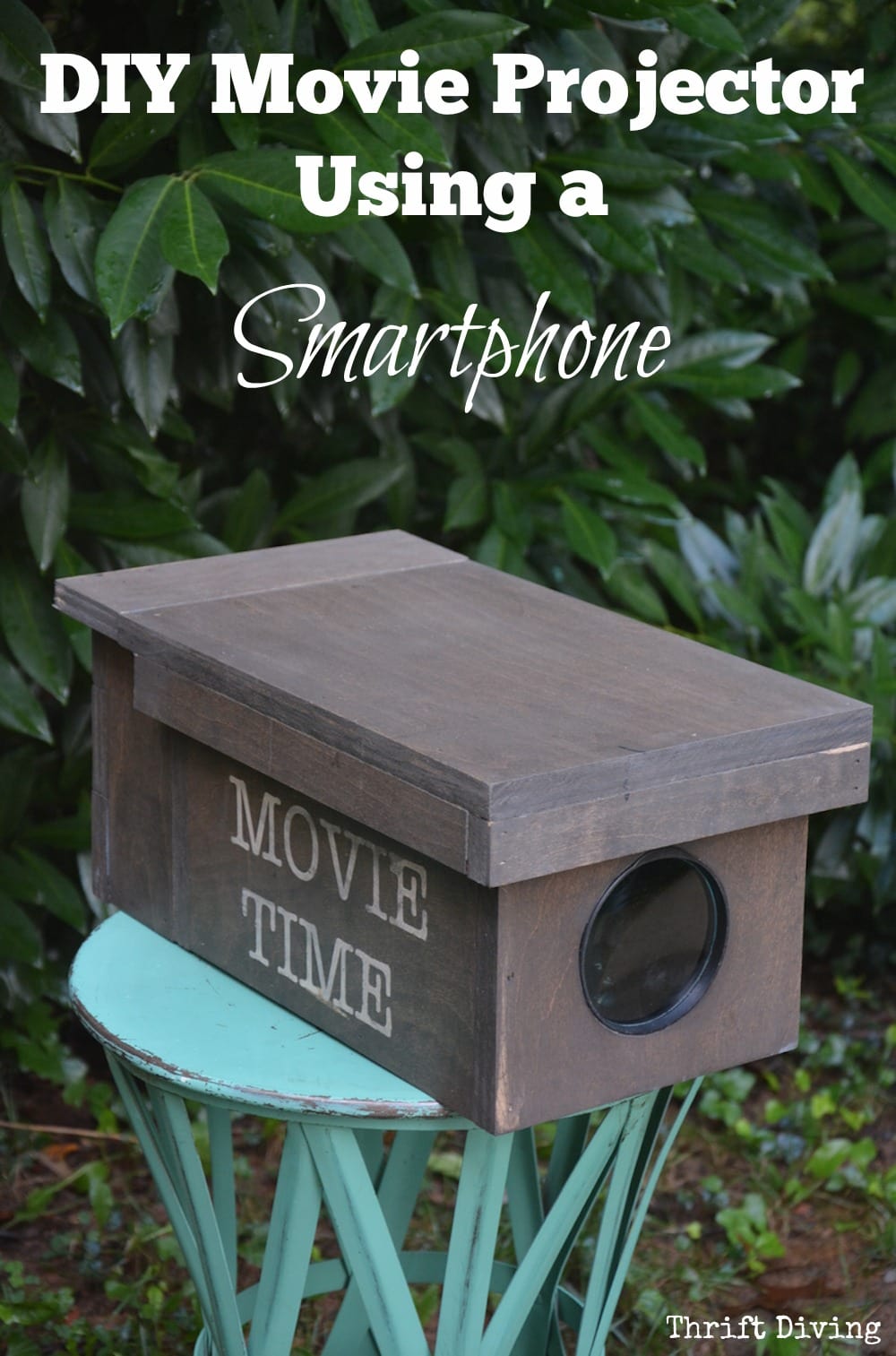 I was doing this on the fly, so I didn't know what measurements I'd need. You will also have to calculate your own measurements, because I think it depends on the strength of the magnifying glass. For the one I used from the dollar tree, I had to make my diy movie projector longer than a standard shoebox to get it to focus properly.
That's how I did it!
materials to make a DIY film project
2′ x 4′ birch plywood
$1.00 magnifying glass from the dollar tree
small handsaw (to cut the handle of the magnifying glass)
jigsaw and electric drill to cut out the space for the magnifying glass
miter saw or circular saw to cut the wood
tape measure & pencil
empire square for each straight line
glossy black paint for inside of DIY movie projector
stencils (optional)
step 1: take a 2′ x 4′ board.
I ended up using it all, surprisingly!
home depot sells 2′ x 4′ boards by themselves, but they are more expensive at about $20. my advice would be to cut a larger 4′ x 8′ board, which costs $50, but overall you get more pieces for less money!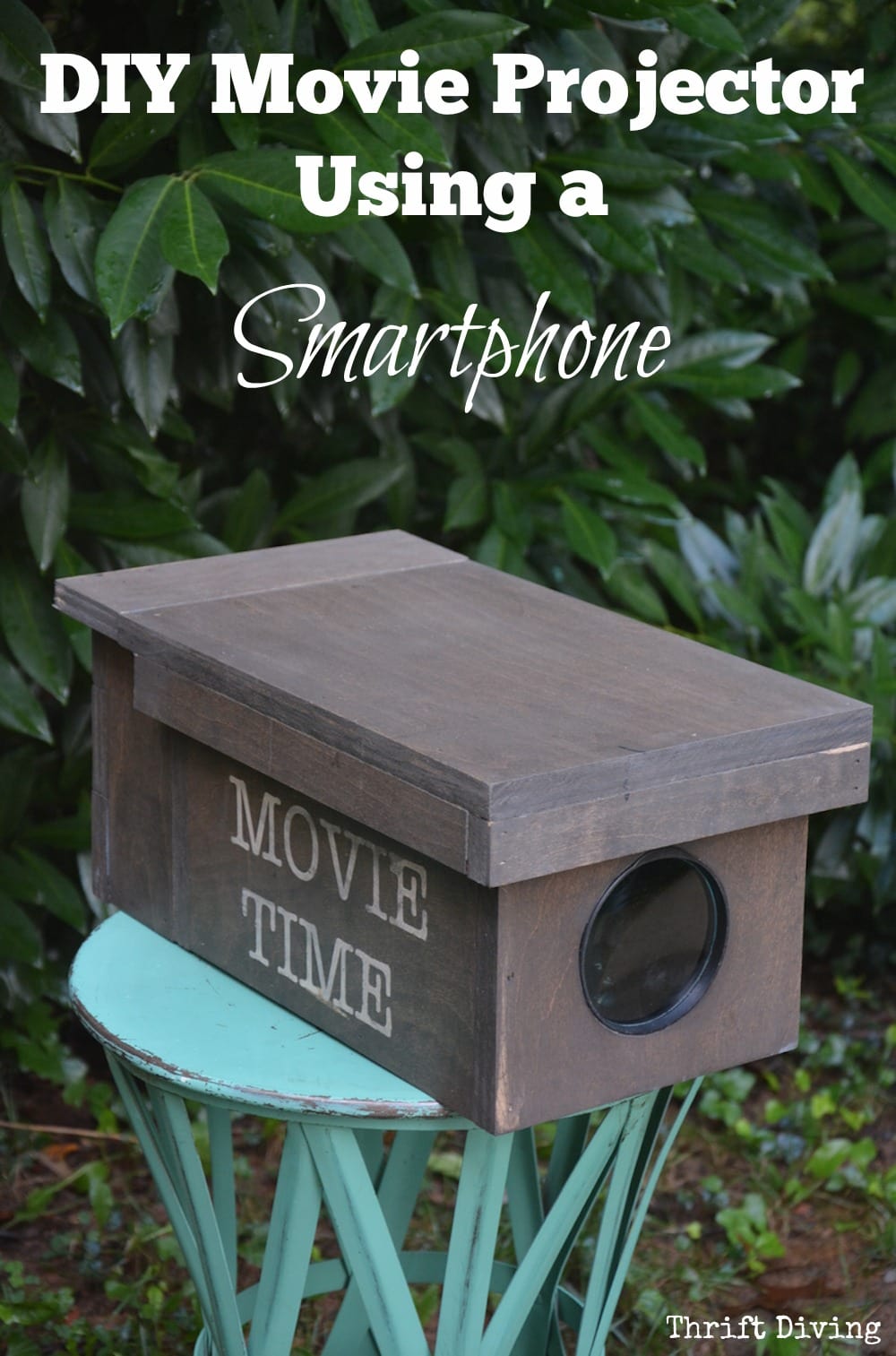 step 2: measure the front and trace the magnifying glass.
decide how big you want it, then measure, draw lines and cut.
step 3: cut the handle of the magnifying glass.
you could have cut the handle before tracing. never mind 🙂
but this is where a small hand held hacksaw comes in handy and it's easy to do.

step 4: start cropping the loupe.
here you can see i have the lines drawn for the size of the front i want it to be (approximately 7 inches). it's best to cut it when it's a solid piece of wood because it's louder and easier to cut.
And it's best to cut it when it's a solid piece of wood because it's stronger and easier to cut.
When cutting circles, you must first drill a hole so the blade can go in and start cutting. 🙂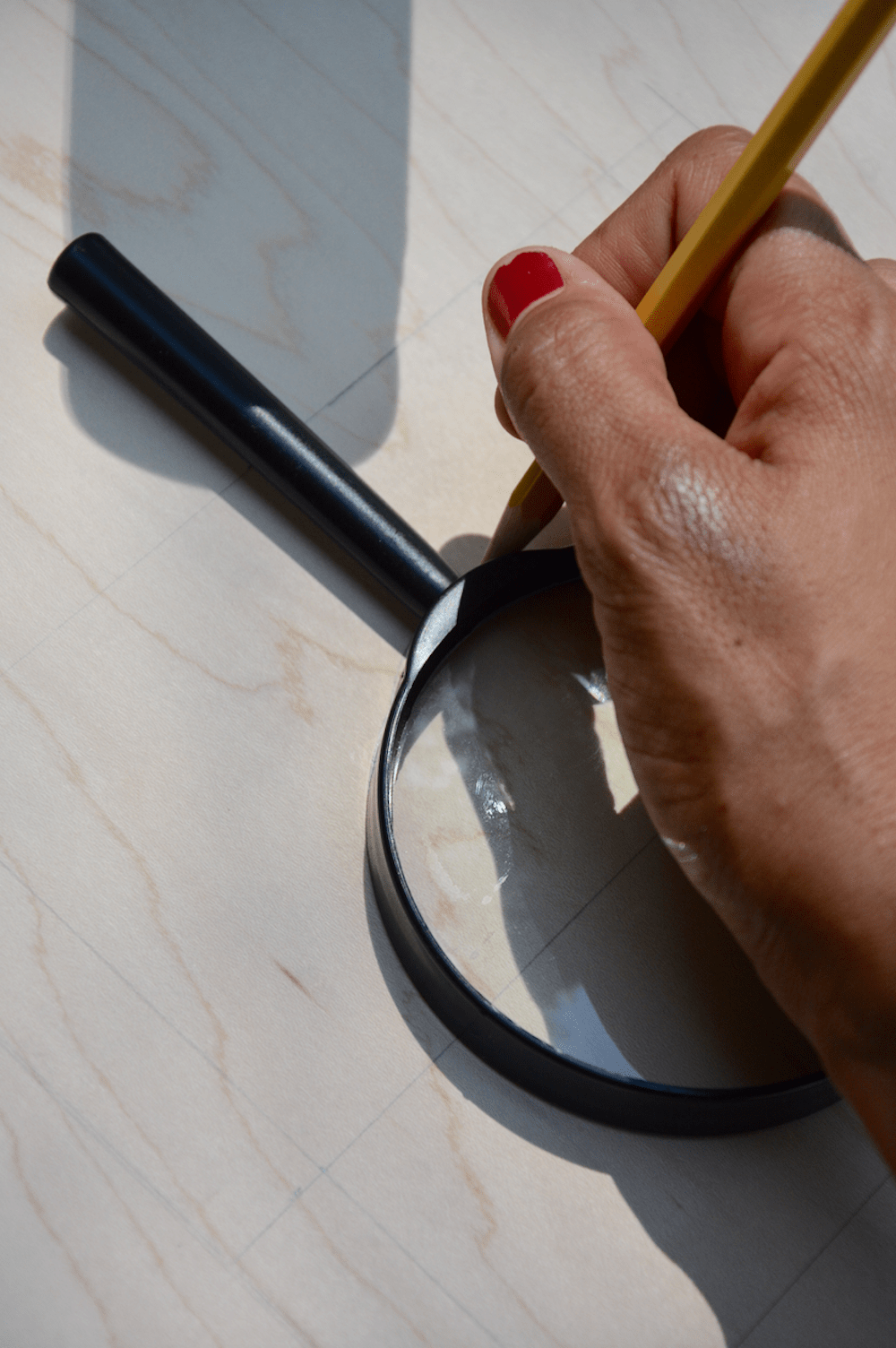 once the hole was cut, I tried the magnifying glass there.
You may need to clean up the edges to make it fit. just don't cut it too wide or else it won't fit and the light will leak out!
After testing and fitting the glass, I cut out the rest of the front of the movie projector with my miter saw.
step 5: measure and cut the other pieces.
You will also need two sides, a bottom and a back.
but before you cut it, I recommend you do a test run to see how long you'll need it. try using a shoe box just to see how long your DIY movie projector box will need before you cut the other pieces. take note of these measures.
step 6: glue and nail together.
step 7: make a cover.
step 8: paint and stain.
I used black paint on the inside to keep it dark, and used tint for the outside, and added some stencils that stay on like "movie time"!
step 9: try it out!
sooooo… this is where I failed. I did not do previous tests to see how long to make the body. and of course, it totally failed me! it actually needed to be longer.
This is what it looked like when I was done.
very good, right?
well, the body wasn't long enough for the image to show up clearly on the old vintage movie screen I bought at the thrift store.
damn it!
back to the drawing board…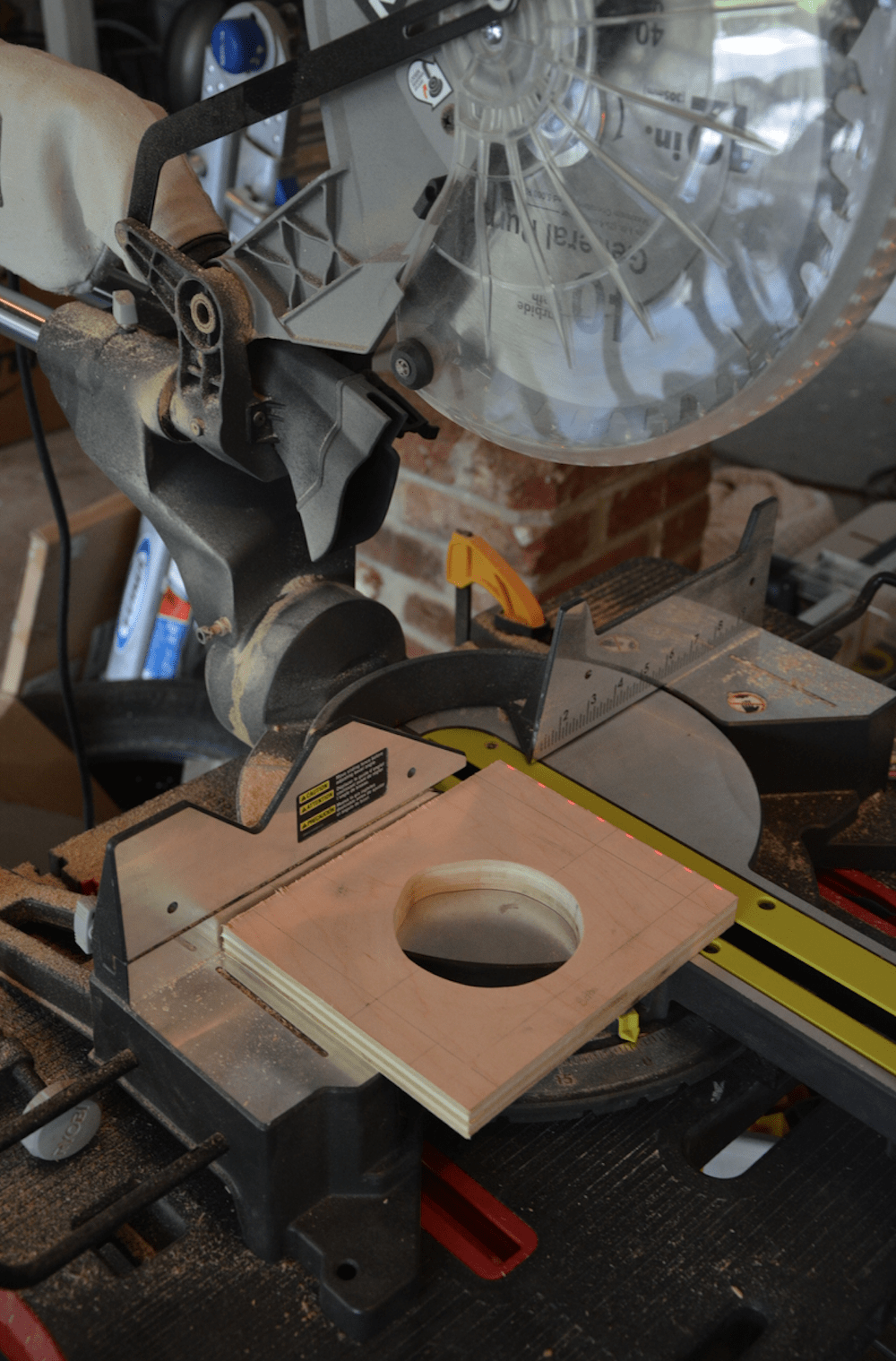 so I had to find some scrap boards from my 2′ x 4′ (I wasn't going to cheat and use extra boards! lol).
I created extra space at the back.
but as you can see the cap was too short.
after a long time, when all was said and done, I had what was a stripped down DIY movie projector!
haha
but the good news is that it works!! 🙂
here are some tips to make sure it works
Tip #1: Have a couple of extra pieces of wood on the inside to hold the phone up and use sticky velcro or some other way to keep the phone upright. make sure to lock screen rotation
Tip #2: Make sure you lock the screen rotation and you should have the movies on your smartphone upside down. when the image hits the magnifying glass, it will turn it face up on the white sheet, wall, or movie screen.
Tip #3: Once you've determined how far away your phone needs to be to be seen clearly, walk the projector back and forth until it comes into focus on the screen .
voila!!
A home movie projector for around $15!
I think it looks much better than an old homemade movie projector. No? 🙂
I consider this to be my practice. the next one won't just stick random scrap pieces from a board. ha ha! and it would be more colorful, maybe with templates!
but this is not bad for a first try!
don't you want to go make one now? 🙂
Go See Everyone Else's Projects!
wooden basket for kim six fix jigsaw
easy to talk DIY photo frames in the country
jewelry hanger with wooden letters diy by designs by studio c
circle the child seat plans next to your tool belt
easy wooden pumpkin cutout by h2obungalow
DIY pizza bread board by style update
small stool from my repurposed life
virginia sweet pea DIY glue gun holder
DIY Wooden Movie Projector by Thrift Diving
Palooza link party
serve it & digging link party
Make it nice on Monday
surprise us on Wednesdays
inspire me on Tuesday
welcome home Wednesday
party time
love this post? share it! 🙂